UPDATE! The pattern is now available in my ETSY shop Sorry, but it's just the one size until I have time to grade it larger or until I have more money to hire someone else to grade it. Check it out here: https://www.etsy.com/listing/199165877/black-widow-avengers-cosplay-sewing?
When I'm not running our yogurt store or writing I enjoy sewing Cosplay commissions.
Black Widow, Avengers
For the 2013 Fanime Convention, I created a catsuit and gloves for "Black Widow" from the avengers.
Modeling the costume is Cosmic-Empress
For the record: Cosmic-Empress usually crafts her own costumes, but since I was planning on making this costume for myself, I offered to share the pattern. She purchased the fabric, provided the shoes,props, accessories, and wig–the essential elements that transformed this from a plain black catsuit into a recognizable Black Widow.
This was one of the easier projects I've done because she selected a heavyweight knit instead of using a woven fabric and her measurements are very proportional.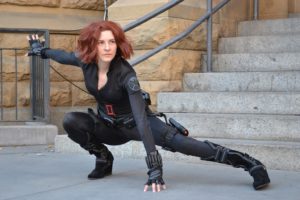 Cosmic Empress
Tip:
The SHIELD patches were purchased online.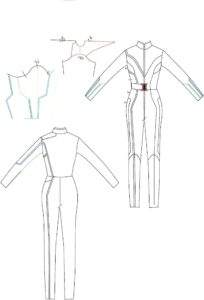 Black Widow Technical Flat